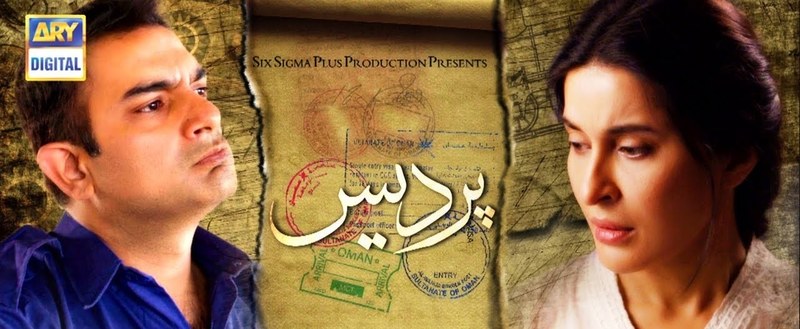 Sarmad Khoosat and Shahista Lodhi steal our hearts in Pardes.

ARY Digital's Pardes has been making waves since its release with a brilliant star cast which includes Sarmad Khoosat and Shahista Lodhi in leading roles while it has Bushra Ansari, Gohar Rasheed, Durr-e-Fishan Saleem, Aliya Chaudry and Sharmeen Ali in prominent roles. Directed by Marina Khan, penned by Sarwat Nazir and produced under Six Sigma production, 'Pardes' has a gripping narrative, and it is one play that should be added to your must-watch list.
The Plot
Ahsan's return to Pakistan has changed things at home, Zubaida is not asked to be in the kitchen at all times and everyone in the family is cordial to her to keep up appearances infront of Ahsan. The good old Zubaida has not told Ahsan of the hardship he has faced but their neighbour told him about the injustices his wife went through while he was in another country. This angered Ahsan and he decided not to return back, he announced his decision but his mother Mumtaz (Bushra Ansar) and brother Asim (Gohar Rasheed) could not let this happen as they were too used to the large amounts of money Ahsan sent. After some convinving from Zubaida, Ahsan returned back to Muscat but began to send a separate amount for his wife and children from then on. On the other hand, Zubaida discovered her sister-in-law Aliya was in love with someone and decided to speak on her behalf to the family, however they cursed Zubaida and decided to get Aliya married as soon as possible citing it a disgrace that their daughter was having an affair. A new entrant to the show is Zubaida's maternal cousin, his entry seems to be a future problem for Zubaida with her obnoxious in-laws
Pardes Sheds Light on the Sad Reality of Many Pakistani Households!
Pardes' OST talks about the pain of missing someone as terribly as one could, the same longing that we see Ahsan and Zubaida feeling for one another. Ahsan toiling away all alone in the Middle East while Zubaida is busy looking after their two children and the entire household too, it is after she is tired from the day's work that she silently cries for her husband who is far away. The drama sheds light on a sad reality that many Pakistani families have faced their entire lives, while the husband is abroad earning in a foreign land for the entire family, his wife and kids suffer the loss of a father figure in their lives. While some are fortunate enough to be living with their husbands in foreign countries, majority of Pakistani women face the same fate as Zubaida in the show.
The male 'honor' is all that is wrong in our society!
We're also impressed with the drama that is highlighting some core issues that plague our society, the fact that Asim was ready to kill his younger sister Aliya in order to teach her a lesson because she expressed her interest in Humayun, speaks volumes about the mentality of the men in our society. Asim spoke about his 'honour' that wouldn't let him sit and watch Aliya do such a shameful thing, whilst when Aliya reminded him that he had a love marriage with Nausheen and in this case if she was immoral then so was Nausheen. What a pwerful scene and extremely well acted and executed. Kudos to all of these actors, Shahista Lodhi, Gohar Rasheed, Bushra Ansari and Aliha Chaudry who sent out such a great message to the viewers. The fact that people have different rules for a boy and girl even if they've done the same thing.
What's Next?
Will Zubaida's closeness to her cousin become a problem for her as shown in the next episodes preview? Is this her mother in law's way to create grievances between Ahsan and Zubaida?
Follow HIP In Pakistan for latest entertainment news and updates.